My primitive lighting wall sconce has arrived and I am ready for installation, now what?
Caution, lighting fixtures should be installed by those familiar with electrical connections. Incorrect installation can result in property damage, fire, personal injury or death. This installation guide is intended only for those who are familiar with electrical installation, to be used as a general guide to wall mounted electric light installation, all manufacturer's instructions which come with your product must be followed. If you are not familiar with lighting installation please consult the assistance of a professional electrician. Countrylivingprimitives.net/Country Living Primitives LLC assumes no liability resulting from direct or in direct use of this material.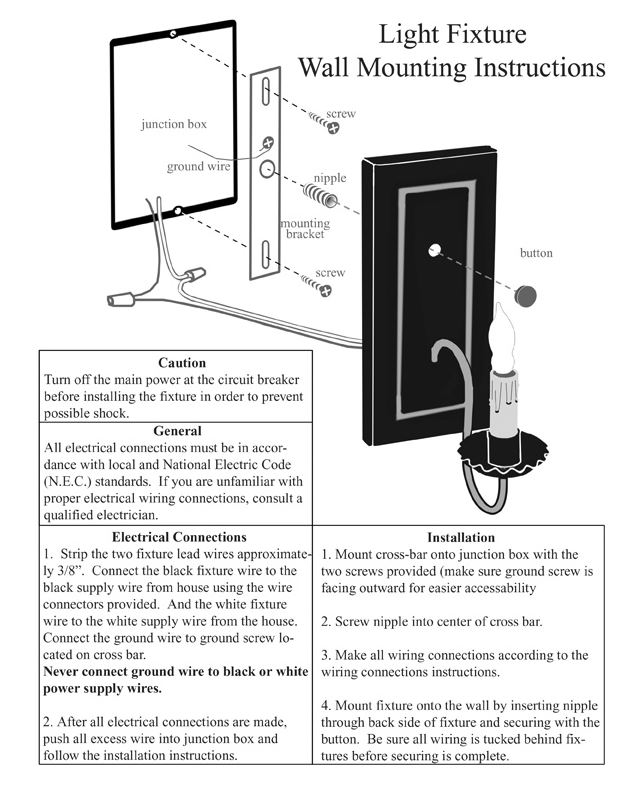 Please Note: All electrical connections must be in accordance with local and National Electric Code (N.E.C.) standards. If you are unfamiliar with proper electric wiring connections, consult a qualified electrician.
After you have unpacked your wall mount lighting fixture and are ready for installation. Study manufacturers installation diagram provided, if none has been provided you can view a general Installation Diagram to the right.
1. Turn off the power at the main circuit breaker to avoid electrical shock.
2. Remove the cover or old fixture from the wall junction box.
3. Mount provided cross-bar on junction box using 2 screws provided; make sure ground screw is facing outward for accessibility.
4. Screw nipple into center of crossbar.
5. Strip the 2 fixture lead wires on your new light fixture approx. 3/8".
6. Connect the black fixture wire to the black supply wire from the house using your manufacturer provided connectors.
7. Connect the white fixture wire to the white supply wire from the house using your manufacturer provided connectors.
8. Connect the ground wire to the ground screw located on the crossbar. Never connect the ground wire to black or white supply wires!
9. After all electrical connections have been made properly push excess wire into the junction box.
10. Mount fixture onto the wall by inserting nipple through backside of fixture and securing with button. Be sure all wiring is tucked behind fixture and into junction box before securing is complete.
View Primitive Wall Sconce Lighting