Posted by Primitive Country on 28th Oct 2017
What is the difference between urban farmhouse decor, farmhouse decor, primitive decor, & country decor? Aren't they all about the same? These four decor styles are very similar, in fact they are so near alike that many home decor enthusiasts blend them together for a hybrid style of their own.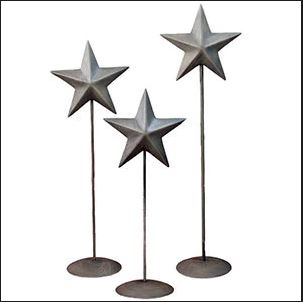 In my opinion these four styles are all sub-styles of the same decor. Often times you will see the exact same pieces being used in the different themes. For example the Barn Star Pedestals have been around since Country Decor became popular in the late 90's. In country decor this item is often finished in burgundy, mustard or black. Primitive decor uses the same item as it is or with a rusty finish. While in Farmhouse Decor it is finished in gray.
Farmhouse and Urban Farmhouse seems to emphasize "chalk colors", whites, grays, faded blue's and so forth. These styles also have a few trademarks of their own, such as: Windmill Decor, Industrial Pendant Lighting, and Cotton-ball Wreaths.
I personally like certain aspects of each style, therefore our home decor is a blend between the 4 decor styles.