Posted by American Lighthouses on 1st Jul 2019
In Vermilion, Ohio stands the Vermilion Lighthouse The lighthouse stands between the Vermilion River and Lake Erie. The majority of the lighthouse is white in color, but it has a black top and a reddish stripe on the bottom of the tower.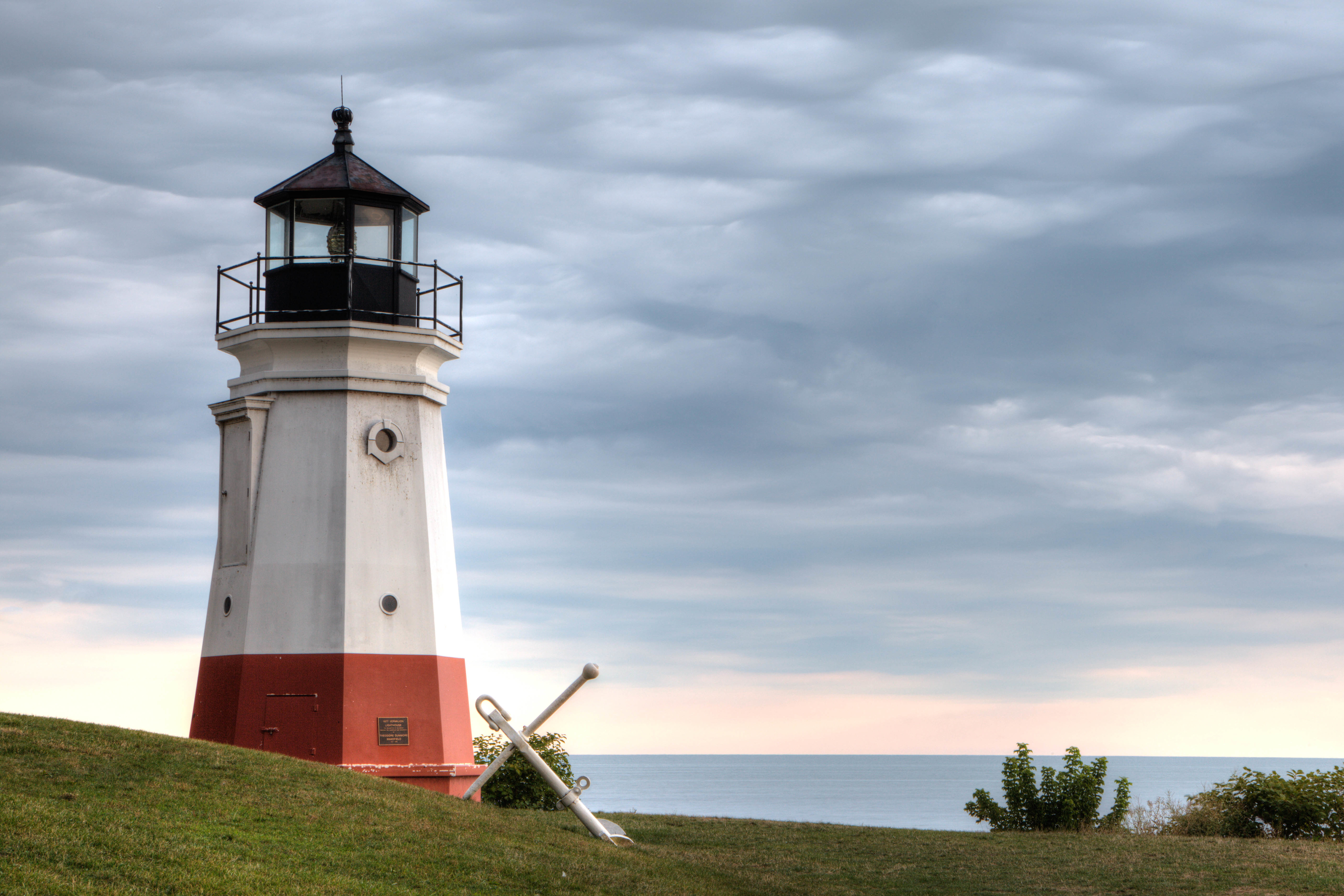 .
In 1847 the United States Congress set a sum of three thousand dollars aside for the building of a lighthouse and for constructing a place at the edge of a pier for the light. In only a few years the pier was in bad shape, and the lighthouse was in need of improvement as well. In 1859 both the pier and lighthouse were rebuilt. The lighthouse was made out of wood and a whale oil lamp was put in the top of the tower.
In 1870 a nearby lot of land with a house was purchased for the lighthouse keeper. In 1877 once again the lighthouse was in need of repairs. This time instead of building it out of wood they ordered an iron tower. When the new tower was assembled it measured thirty-four feet tall, and it was separated from land by a four-hundred-foot-long catwalk. The catwalk allowed access to the lighthouse when large waves would extend over the pier.
In 1880 the light was changed from a fixed white to being a fixed red. Then on September 2, 1919 the lamp was changed to acetylene, which changed the light to a flash every three seconds. This change meant there was no need for daily maintenance so the lighthouse duties were passed on to the keepers of the Lorain Lighthouse.
In 1929 the Vermilion Lighthouse started to lean, due to a storm damaging the pier. In March the lighthouse was taken down and, in its place, a skeletal steel tower was put up to show where the pier was. Many of the towns people were very sad to see the lighthouse go.
For years many did not know what happened to the old lighthouse. Later it was found out that the old lighthouse was repaired and in 1935 the lighthouse was placed off Cape Vincent, on Lake Ontario. The lighthouse was renamed East Charity Shoal Lighthouse.
In 1991 a man named, Ted Wakefield, raised enough money to build a sixteen-foot replica of the old lighthouse. In July of that year ground was broke to start the building. Then in October the lighthouse was put in place. Today the replica keeps a piece of the old Vermilion in the hearts of those that live in Vermilion, Ohio.