Posted by American Lighthouses on 27th Jul 2019
The St. Augustine lighthouse stands at the north end of Anastasia Island in St. Augustine, Florida and was built between 1871 and 1874. According to some archived records and maps, this "official" American lighthouse was placed on the site of a watchtower built earlier by the Spanish as early as in the late 16th century.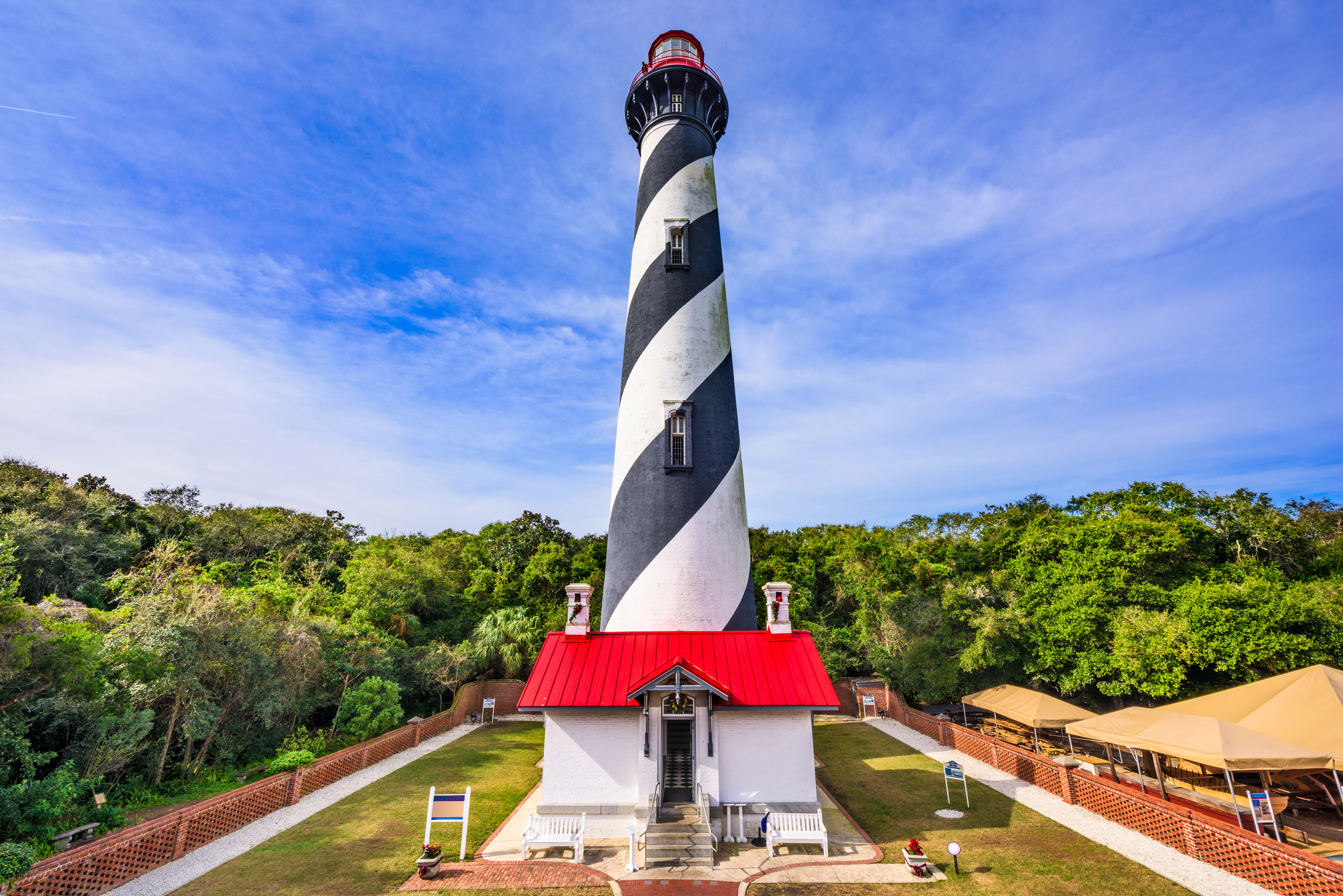 The tower is still a functioning lighthouse to this day and ships located offshore use the lighthouse for navigation purposes. In the daytime, ships can see the unique daymark, a black and white barber pole stripe with a bright red top. At night the ships can tell that they are near to the coast of St. Augustine by the one, fixed white flash that occurs every 30 seconds which is the nightmark.
The St. Augustine Lighthouse rises 165 feet above sea level and contains 219 steps that are climbed by visitors for a breathtaking view overlooking theMatanzas Bay and the Atlantic Ocean from Anastasia Island. At the top, the original first order Fresnel lens still serves as the beacon that is lit today by a 1000 watt bulb and maintained by the Maritime Museum and volunteers.
The lighthouse is much wider than most lighthouses and is also the 5th tallest in the state of Florida. The highest point guests can reach is the observation deck, which is 140 feet above the ground. However, there is a clear window located in the top of the tower that allows you to see up into the Lens Room. The lens itself is nine and a half feet tall and six feet wide and weighs nearly two tons.
As a result of the threat of erosion, the current tower was built further inland in 1874, 6 years after the first lighthouse fell to the sea. The Keeper's House that sits next to the lighthouse was built in 1876 and now serves as the St. Augustine Lighthouse Museum. Its former use was to provide living quarters for the families of those who kept watch.
The St. Augustine lighthouse is St. Augustine's oldest surviving brick structure and a gorgeous place to stop and see while on the coasts of Florida.