Posted by American Lighthouses on 1st Jul 2019
The Cape May Lighthouse is a lighthouse located at the tip of Cape May in New Jersey. It was built in 1859 under the supervision of U.S. Army engineer William F. Raynolds, was automated in 1946, and is still operating to this day in Lower Township's Cape May Point State Park. The state park offers many amenities for nature lovers and family fun.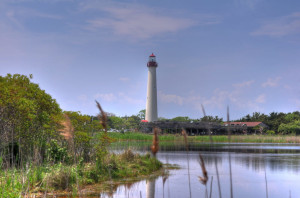 The present tower is restored, and it is the third lighthouse that has been documented at the southern tip of New Jersey. It has been an aid in navigation for mariners and attraction for visitors since it was built in 1859. The Cape May lighthouse colors are a dark red top with a sandy colored tower which is its day mark that helps ship captains tell lighthouses apart from one another. The first lighthouse was built in 1823 and the second one in 1847. The first locations of these two lighthouses are now underwater due to erosion.
The lighthouse stands 157 feet 6 inches tall, from the ground to the tower's 199 step cast iron spiral staircase offering a breathtaking view from the top that extends to Cape May City and Wildwood to the north, Cape May Point to the south, and, on a clear day, Cape Henlopen, Delaware, to the west.
The lighthouse has two separate walls. The outer wall is cone-shaped, and is 3 feet 10 inches thick at the bottom, and 1 foot 6 inches thick at the top. The inner wall is a cylinder and 8.5 inches thick which support the spiral staircase. The walls were designed to withstand very high winds several times above hurricane force.
The Cape May lighthouse has a fully functioning beacon that the U.S. Coast Guard continues operation as an active aid to navigation. The light is visible 24 miles out in the sea and flashes every 15 seconds. A lighthouse's flash pattern is called its "characteristic," every lighthouse has its own flash pattern.
This lighthouse is such a beautiful sight in lovely Cape May, and a perfect spot to visit in the summer!