Posted by American Lighthouses on 19th Mar 2019
The Cape Hatteras Lighthouse is located on Hatteras Island in the Outer Banks. The Outer Banks are a group of barrier islands on the coast of North Carolina that divide the Atlantic Ocean from the coastal sounds and inlets. The lighthouse sits in the town of Buxton, North Carolina, which is part of the Cape Hatteras National Seashore.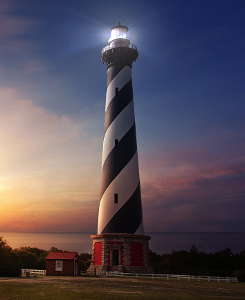 The Cape Hatteras Lighthouse, with its black double helix stripes on white background, is one of the most famous and recognizable lighthouses in the world. It protects one of the most treacherous stretches of the Outer Banks, with a beam of light that spans 20 miles into the ocean. In exceptional conditions, it has been seen from 51 miles out. Cape Hatteras Light is made of approximately 1,250,000 bricks and is standing 210 feet above sea level. It is one of the island's biggest attractions with over 175,000 visitors every year to climb its 257 steps to reach the light. The climb is self-paced and provides amazing views from North America's tallest brick lighthouse.
The Cape Hatteras lighthouse that currently is servicing the Hatteras Island and the ships traveling offshore, is actually the second lighthouse. The first lighthouse was 90 feet tall and was authorized in 1794 and construction was completed in 1803, but it soon became apparent that this first sandstone lighthouse was ineffective in protecting passing ships from the deadly Diamond Shoals. The Diamond Shoals are the reason for the treachery of these waters. They are a cluster of underwater, shifting sandbars that are found just off the coast of Cape Hatteras, but which extend for miles in varying directions, depending on the local currents.
Shell damage from the Civil War and structural deterioration prompted the construction of a replacement lighthouse in 1870, the one we enjoy today. The eroding of the beach threatened the base of the lighthouse in 1935, prompting the building of third lighthouse a distance away in Buxton Woods. This new structure was a steel skeleton tower that housed an airport beacon. After erosion patterns had changed fifteen years later, the 1870 Cape Hatteras Lighthouse was put back into operation.