Posted by American Lighthouses on 19th Mar 2019
Many lighthouses date back to hundreds of years ago. The Bodie Island Lighthouse is no exception. This lighthouse is located on the Outer Banks of North Carolina. It sits just south of the town of Nags Head.
The United States government commissioned Lieutenant Napoleon L. Coste in 1837 to find a spot to build a new lighthouse on the Outer Banks. The Lieutenant decided the spot for the lighthouse would be on Pea Island since many ships were being destroyed on that part of the coast.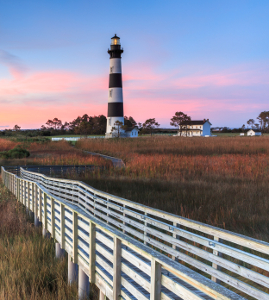 Ten years later in 1847 construction finally began on the lighthouse. When the lighthouse was finished it was not long after that there were foundation issues with it. Attempts to repair the leaning lighthouse proved to be unsuccessful and too costly, so the lighthouse was abandoned.
A few years later in 1858 a second lighthouse was to be built near the abandoned one. This time the Bodie Island lighthouse was to be 26 feet higher than the old one, making it a total of 80 feet tall. This lighthouse did not last long either, however it was not due to a faulty foundation. This time the lighthouse was destroyed in the Civil War by Confederate troops.
The idea of having a light house in this area was not abandoned. In 1871 construction began on the third lighthouse a little farther up the coast. This time the lighthouse's height was increased to 156 feet. A year later the lighthouse was in working order and sending a warning light out to ships approaching the coast. In 1932 the lighthouse became automated as lighthouse operators were becoming obsolete, and in 1953 it was turned over to the National Park Service.
Since the Bodie Island Lighthouse has been restored. Visitors can climb all the way to the top of the lighthouse. This lighthouse still shines its beam many miles offshore. The lighthouse keepers house was also restored and serves as an information center and a ranger station. Many visitors stop each year to take in the site of the black and white horizontally striped lighthouse, along with the grounds that it sits on.