Posted by American Lighthouses on 19th Mar 2019
The Barnegat Lighthouse is located in New Jersey on the northern tip of Long Beach Island. The name Barnegat (which means inlet of breakers) was given to the inlet at the northern tip of Long Beach Island by explorers because of the shoals located there. These shoals would create breakers and would be dangerous to ships passing through this area. It was determined in 1834 that Winslow Lewis would build a lighthouse at this location. When finished in 1835 the lighthouse stood between 40 and 50 feet tall.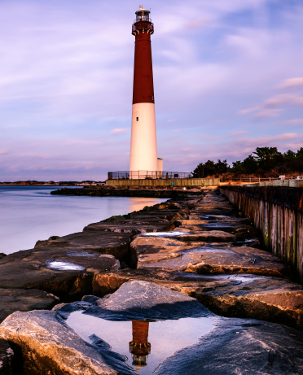 Some years later there was dissatisfaction with the production of light that was coming from the lighthouse. One captain said that the light was often mistaken for the light of another ship and in hazy conditions the light could not be seen more than 7 miles out. It was determined to add another light to help with this problem in 1854. Even with this new light there was dissatisfaction that the light was just telling where the inlet was and not strong enough to help navigate through the inlet.
In 1856 it was decided to build a new and better lighthouse. Before the completion of the new tower the ocean had eroded away the old lighthouse and keeper's house. To avoid this happening to the new lighthouse it was built around 900 feet farther inland. The new tower was built at 163 feet tall, which makes it the second to largest lighthouse in New Jersey.
On January 1, 1859 the light was produced and marked the beginning of the new tower. The tower was faced with different trials. 1919-1920 there were destructive storms that brought high waters. Once again, the keepers house was ruined and eventually sold to salvagers. Jetties were made to help fight against erosion, but in ten years' time the distance between the lighthouse and inlet had still decreased by half.
In 1924 it was proposed to spend money to preserve the Barnegat Lighthouse, but there was much dispute and the money did not go towards it. In April 1926 the lighthouse was put in the care of the state of New Jersey, and the next year a lightboat was put 8 miles out in the sea. This mad it unnecessary to have a light on land so the lighthouse was automated.
Still being faced with the erosion problem, the government decided in 1934, to put steel rings around the lighthouse. These rings were put 20 feet below the tower along with steel rods and then concreted. This helped immediately.
In 1944 the lighthouse was put out of commission. After restoring was done the Barnegat Lighthouse was reopened to the public in 1991. In 2009 the light was relite. The flash every few seconds could once again be seen coming from "Old Barney".