Posted by Amish Handcrafter on 15th Mar 2019
It's that time of year again when spring fever sets in, but warm weather is still months away! Thinking and planning for some new outdoor garden decor items is a great way to spark some interest and give you something to look forward to as the cold season comes to an end.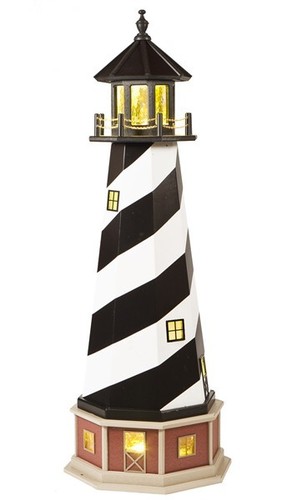 Garden lighthouses come in a large variety of styles to suit your taste and are built to last and endure all types of weather conditions. They are handmade out of top quality exterior wood and are hand painted with exterior paint. Each lighthouse has a distinctive pattern in which they are painted. The black and white barber pole spiral pattern of Cape Hatteras Lighthouse is one example. Another example, the Cape Cod Lighthouse style is simplistic with a nod towards modern with its all-white pattern and black accents. You are able to choose different color options in your selected pattern to compliment the exterior of your home or signify your favorite sports team.
Lighthouses along with other primitive yard decorating have everything you need to take your outdoor spaces from boring to gorgeous! Tasteful and elegant, these unique decorative lighthouses are easy to place in your yard or garden for a beautiful focal point. Whether you have got a large or small yard or garden, a garden lighthouse is sure to liven things up.
Outdoor decorations can guide and shape how you use a space, and affect how it feels when you are in it. Bright, invigorating things like lighthouses keep the outdoor spirit alive. They are a wonderful statement piece, and they can stand alone. They are a simple update and can provide a lot of color and detail without much effort!
The use of decorating with garden lighthouses in the lawn is inspired for many people by views and memories from fun-filled beach vacations. It is breathtaking to see shorelines being buffeted and pounded by wind and waves, with a lighthouse standing tall and still shining its light across the sea. You can bring this inspired look right into your backyard by incorporating a garden lighthouse into your decorating scheme.