Posted by Primitive Country on 11th Oct 2017
Country décor is by its very nature eclectic, allowing it to adapt well into almost any setting. Rural country homes and inner city residences equally lend themselves to country style decorating. Whether you were born and raised country or you just want to create the same warm, inviting, unpretentious charm of country in your home, country décor is your ticket to accomplishing this goal.
Picture with me a stainless steel/chrome kitchen with glistening mahogany cabinets and granite counter tops, now picture an old cook stove and a few painted cabinets with a formica counter. Though the two kitchens are vastly different, they both are a country decorators dream. Sure, with one you may want to go for a more modern country look while with the other really lends itself to a primitive country feel; in both scenarios, by incorporating the characteristics of the home into your scheme you can create something beautiful.
The Key To Creating A Country Atmosphere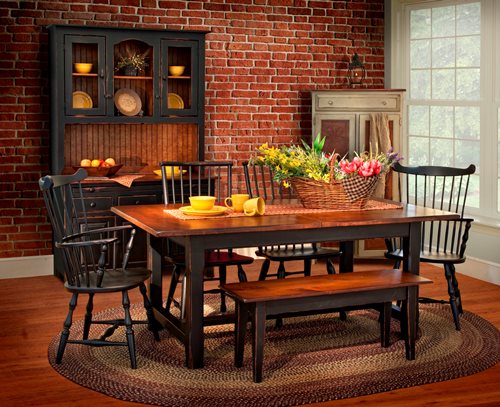 So how does one go about creating a country atmosphere in their home?
Rule #1, "Follow Your Heart," your home décor is meant to be an expression of who you are. By default your decor choices will tell your story, they will speak about your likes and dislikes. They may shed some light on your past, how you were raised or where you grew up. Your home also speaks about who you are today, photo's tell the story of your family, motto's or inspirational signs express your ideals or aspirations. Transform your home into something that is uniquely yours, let your decor tell your story.
Rule #2 "Incorporate The Unique Characteristics Of Your Home," for instance if your home has been built on to, and it now has a brick wall on the interior, don't hide it, expose it. This makes a great backdrop for a truly country setting, see example in photo at right. Every home has some unique features, when included properly in the decor scheme they add character.
Rule #3 "Showcase Family Heirlooms," great grandpa's rocking chair or grandma's jelly cupboard will make a great addition to your home, be sure to include them when decorating. While these pieces may show considerable wear, refrain from refinishing them if possible. Heirlooms are a welcome tie to the past, and go a long way in creating that authentic country atmosphere you are in pursuit of.
Rule #4 "Soften, Soften, Soften" if you want a room to feel warm and inviting, it has to look that way. In the photo above you will see a large hardwood floor and a solid brick wall, both of those elements left to themselves, tend to be cold and uninviting. However with just the addition of a braided rug in the center of that floor and some strategically placed soft accent lighting we have transformed cold and unfriendly into warm an inviting. Braided rugs are a staple of country decor, use them to soften any large floor space.
© Country Living Primitives LLC