Posted by Primitive Country on 18th Oct 2017
Chandelier lighting, is it appropriate for the kitchen? The kitchen is one of the highest traffic areas in your home, from entertaining guests, having family gatherings, or just providing for your immediate family, this room is visited by almost everyone how enters your home. With this in mind, one can easily see why you want it to have a warm welcome appearance and yet be serviceable to all.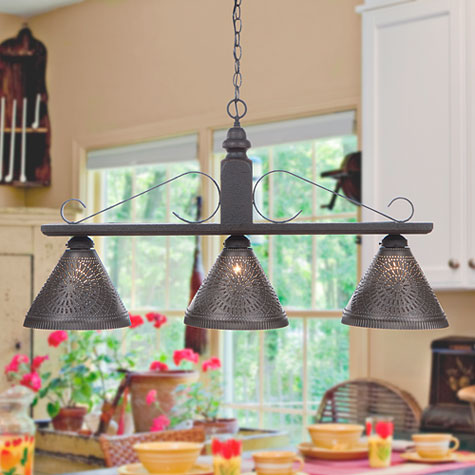 This area of your home often has the most diverse lighting requirements of any room in your house. With proper planning you can develop a lighting scheme that will accommodate the many different lighting needs. Generally speaking there are three primary interior lighting needs, accent lighting, task and ambient. Ambient lighting provides general illumination for the room through flush mount ceiling fixtures, pendants or chandelier lighting.
Kitchen chandeliers can be a great source of ambient light, keep in mind that it doesn't have to be the only source; other fixtures can be added to contribute ambient light as well. A dimmer switch is a good idea for chandelier lighting in the kitchen area to prevent bright overwhelming light which produces glare while still not providing significant lighting for food preparation. Under the counter lighting or track lighting over food preparation areas can provide task lighting and contribute to the general illumination.
To figure out how much light you need in a room with an 8' or 9' ceiling multiply the square footage of the room by 1.5 which will give you the total watts of ambient light needed. For more information visit our Country Decor Handbook.
If your kitchen includes an island this is a great place for a primitive chandelier. Irvin's Tinware makes several chandeliers which are a perfect match for kitchen islands. If you like the look of punched tin and/or wrought iron chandeliers consider the Large Franklin. If wooden chandeliers are more your style then the Large Wellington pictured above may be a good match for you.
Remember the added beauty of a chandelier can be used to compliment or accent your décor style for the enjoyment of all your guests. Size the chandelier in proportion to the space and design of your kitchen area, large extravagant fixtures are eye catching in foyers and great rooms but can be overwhelming in smaller areas. A well balanced lighting scheme will create a warm inviting atmosphere that everyone will enjoy, choose your chandelier lighting accordingly.
View Kitchen Chandeliers
© 2009 Country Living Primitives LLC