Posted by Primitive Decorator on 17th Aug 2019
Modern era home decorators are bombarded with a plethora of primitive lighting options. Internet websites all claim to retail only the finest quality lighting options, but pictures don't always tell the whole truth. Many a decorator has their dreams crushed as they open the box to discover a flimsy piece of junk that slightly resembles the picture from the lighting superstore website. So how does one navigate the lighting labyrinth?
Put Safety First When Buying Primitive Lighting
If you are purchasing a permanent lighting fixture be sure the fixture is UL Listed and comes with a UL label. This ensures it was built and inspected to pass a minimum standard for safety. Reputable companies offer UL Listing on hardwire lighting products. In many municipalities licensed electricians will no longer install lighting without UL Listing labels attached.
Place Quality Over Price
The old adage, you get what you pay for is especially true in the primitive lighting arena. Just about anyone can acid wash an old piece of tin and add a light socket, but that doesn't make it a quality light fixture. If a fixture is priced cheap then it is a given the quality will echo the same.
The highest quality primitive lighting is still being produced in the USA. In years gone by there were a number of reputable companies handcrafting lighting, Irvin's Tinware, Lt. Moses Willard, Katie's Lighting, Northeast Lantern, Timeless Lighting and more. Today there are only a few companies who still handcraft their lighting in the USA.
For those who simply can't afford lighting manufactured in the USA, imported lighting tends to be cheaper. However you can expect a drop off in quality of the fixture. For what its worth, lighting produced in India tends to be of a bit better quality than from other parts of Asia.
Best Indoor Primitive Lighting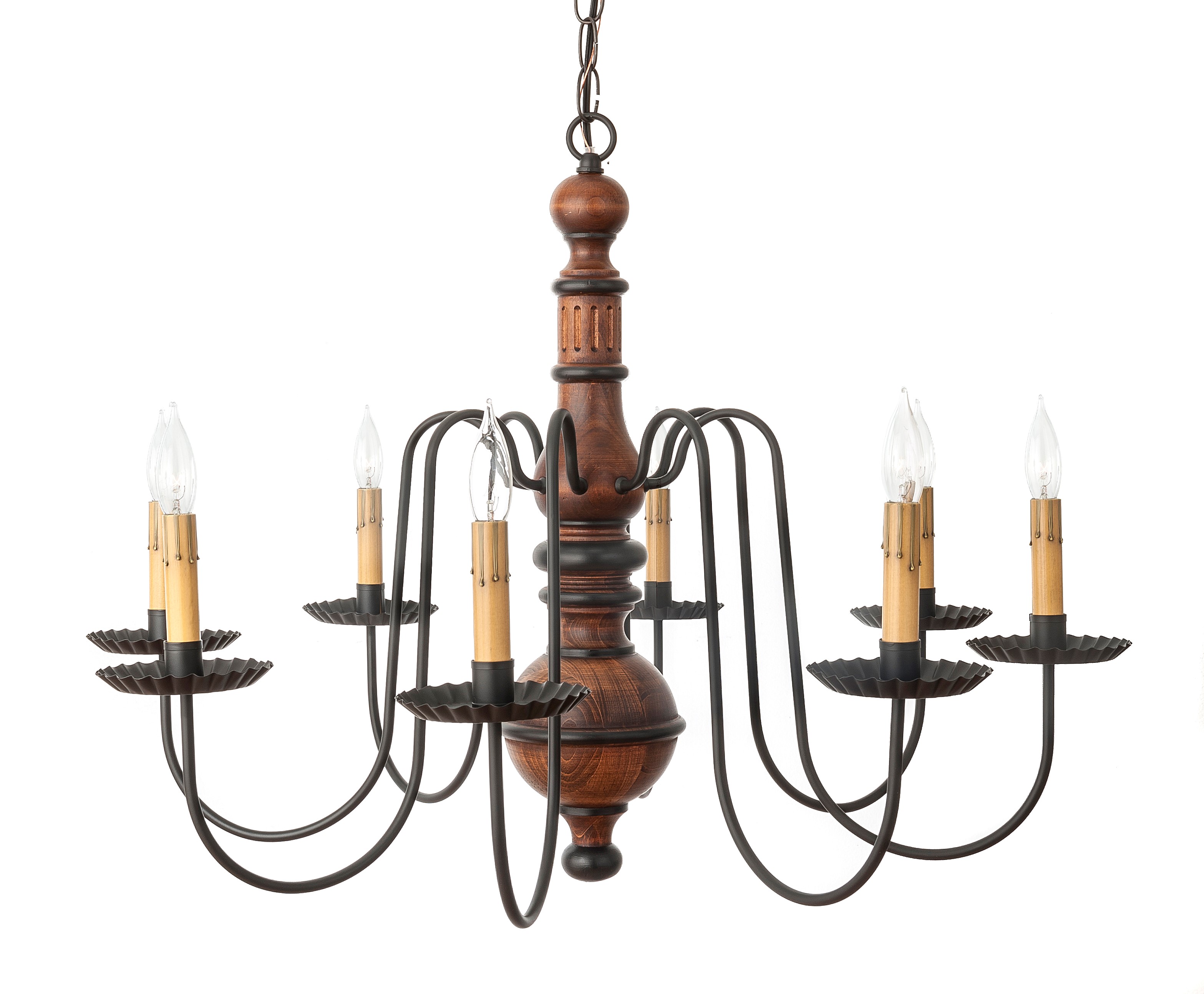 Katie's Handcrafted Lighting offers an exceptional line of primitive chandeliers all handcrafted in the USA. They offer an extensive selection of wood finish color combinations and several bobeche style choices. Each solid maple chandelier is topped with a hand painted finish that is 2nd to none. For example check out their Hamilton chandelier, which is a midsized chandelier.
Irvin's Tinware is your best option for punched tin lighting, island lights, sconces and primitive vanity lighting. They still offer a large collection of fixtures Made In The USA. For those looking for a cheaper price point, they do offer an imported lighting collection as well. The Stockbridge is a good fit in just about any décor scheme.
Best Outdoor Lighting
Northeast Lantern has been handcrafting outdoor lighting since 1987, and their quality is exceptional. Katie's Handcrafted Lighting is still producing an outdoor fixture or two and these are of excellent quality. Irvin's Tinware offers a very nice collection of midrange outdoor lighting.